I just got my copy of the special edition DVD! It's awesome. Here is a shot from the DVD. See Short Circuit the way it was meant to be seen!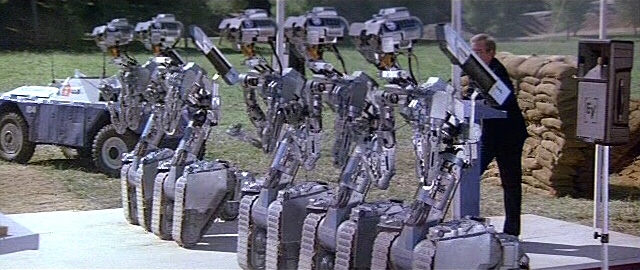 | | | |
| --- | --- | --- |
| Famous Arm Seen in Star Trek Voyager | | by Mike, 9:20a Sept. 20, 2000 [REPLY] [LINK] |
Johnny Five finally gets a "cameo" after 12 years as an arm on some table. I was watching Star Trek Voyager on FOX last night and my eyes lit up when I caught a glimpse of something odd lying on a table. "It's an arm," I thought. "Whoa, not just any arm, that's JOHNNYS!" Paramount must have gotten to rummage through Eric Allard's studio for props in this episode. Call me a liar, but if you saw the episode you'd recognize it too. It's pretty obvious. What's more wierd is that this episode featured sentient robot beings. Sound a little like Johnny Five? If you want to see the arm, pay attention to the scenes where B'Elanna is working on the robots' prototype. Look at what's on the table she's working on. Cool, huh? I caught another easter egg in this episode too. B'Elanna says, "I need to check its flex capacitance." Flex capacitance? For you Back to the Future fans that's a play on the flex capacitor. The thing that makes time travel possible in the Delorian. This episode might be riddled with more easter eggs. Unfortunately, I missed half the episode. I'm going to buy it when it comes out on video. For more information about the episode check out this link. The name of the episode is "Prototype." It is episode number 29.
| | | |
| --- | --- | --- |
| I breathed the same air as Johnny Five! | | by Mike, 3:34a Sept. 16, 2000 [REPLY] [LINK] |
I knew I had these pictures somewhere! I just found them and thought I would share them. They show me as the happiest nine-year-old buy on the planet. I'm standing next to big J at the science museum in Los Angeles, California. I'm thinking, "If only I could climb over the glass fence." I will contact the museum to find out if he is still there. I'd like to visit Johnny Five again!

These photos aren't the best quality, I know, but what do you expect. They're 12 years old!
"Johnny Five Is STILL Alive!" comming soon!
by Mike, 1:36a Sept. 14, 2000 [REPLY] [LINK]
edited 3:11p Sept. 16, 2000
This webpage will be dedicated to my favorite movie, "Short Circuit", and childhood hero, the robot Johnny Five. It should be online in October. E-mail me if you want to be notified as soon as the site goes fully live. Don't forget to bookmark this page!


Planned features:


Fan Art
Fan Forum
Fan Movie Scripts
Opinion Polls
Relevant News Updates
Links to Movie Memorabilia
Downloadable J5 Model
Locations of J5 Robots on Display
Interviews with Movie Staff (if possible)
"Did You Notice?" Movie Goof-ups, Oddities
Music and Pictures from the Film (permission pending)
Movie Staff Contact List (permission pending)

Do you have any more ideas?

E-mail me if you have any fan art, movie scripts, reviews, poll ideas, or anything else so I can have it ready for display when this site goes fully live. Thanks a lot!